Sanitary
-complete fluid separation
-seamless polished tubes
-certified seals
-horizontal or vertical mounting
-316 stainless steel or titanium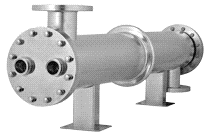 Pharmaceutical and Sanitary Heat Exchangers.
SEC sanitary heat exchangers are engineered in full compliance with FDA, cGMP and 3A Requirements. A new series of heat exchangers P-LINE and S-LINE, for the food and pharmaceutical industries and all other applications that are in compliance with FDA and 3A.
The unique construction isolates each fluid and prevents cross contamination even in the case of unseating the connections. Perfect for operation in applications requiring the highest standards of cleanliness.
Sanitary Heat Exchanger PDFView Download
You can download more manuals on this or on any of the SEC products for more information.
Sanitary Heat Exchangers Are Used In These Industries
Industries
-pharmaceutical
-biotech
-food processing
-beverage production
-dairy
-cosmetics, fragrances
-semiconductor
-high purity
Food & dairy industry
-juice and syrup handling
-chocolate and high viscosity
-brewery
-milk cooling
-pasteurization
Pharmaceutical
-clean steam
-blood, plasma or media growth
heating systems
-water for injection systems (WFI)
-process equipment