Energy Transfer Stations
-custom arrays of heat
transfer equipment
-skid mounted
-simplifies on site
installation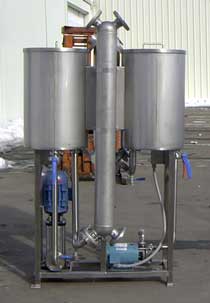 Visit www.secenergy.com for complete Technical Details.
In response to the global demand for more sophisticated heat transfer systems, SEC custom designs quality Energy Transfer Stations. SEC Energy Transfer Stations are an economical alternative to the high cost of on sight fabrication. Working closely with our client we match a specific array of standard industry components with our high efficiency heat exchangers to provide the exact energy transfer capacity needed. These skid mounted assemblies are delivered to the job where a minimal amount of piping is required to get you up and running fast.
If you are involved in an industrial process application or simply working in the HVAC field let us do all the hard work for you. Send us your project data and we will select all the components, fabricate them into one easy to deal with package, and ship it directly to your plant.
SEC Energy Stations PDFView Download
You can download more manuals on this or on any of the SEC products for more information.