Bernoulli Filters
-simple cleaning function
-low constant pressure drop
-low flushing pressure
-easy installation
-excellent corrosion resistance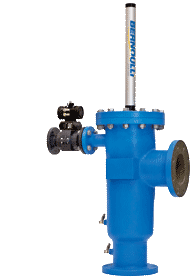 Centrifugal Separators
-continuous operation
-no interruption during flushing
-verysmall scavenge losses
-easy installation
-maintenance free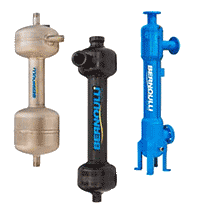 Filters for Heat Exchanger Systems
SEC is now offering Bernoulli Filters and Cyclone Separators. The installation of these units in your work flow will extend the life of your heat exchangers and result in less downtime and expense cleaning fouled systems. Suspended particles and contaminates in low quality water will never make it to your heat exchangers and the filters are very easily cleaned and maintained.
Bernoulli Filters
These self cleaning filters work in pressurized systems for continuous reliable filtration and require very little maintenance. Debris from natural water sources such as seawater and river water can be removed by these filters.
Advantages:
1: Few moving parts and very little mechanical wear for simple maintenance and reliability.
2: Low and constant pressure drop in clean and dirty conditions.
3: Low - from 0.3 bar(g) - flushing pressure.
4: Connect directly to pipe lines horizontally or vertically.
5: Corrosion resistance makes them suitable for seawater applications.
Filter Bodies:
PVC (Poly Vinyl Chloride) - Suitable for seawater.
GRP (Glass Reinforced Polyester) - Suitable for seawater.
AISI 316L (Stainless Steel) - Suitable for freshwater.
Centrifugal Separators
Centrifugal separators are designed to remove suspended solids from liquids with out the use of filters. Liquid enters the chamber where it is accelerated and centrifugal forces cause the higher density particles to separate and drop down into the collection chamber. Separation efficiency depends on flow rate and particle density and varies from 22 - 70 µm. Higher density results in finer separation. Purging of the solids can be done manually or with an automatic purge system.
Sizes available from 3/4" to 20".
Maximum capacity of 2,700 m3/h (11,900 gpm).
Stainless steel AISI 304 / 316.
HD Polyethylene (up to the size 1 1/2")
Carbon Steel
Epoxy painted carbon steel.
Rubber lined carbon steel.