Non-Metallic
-corrosive or high purity fluids
-immersion type
-tube and plate designs
-gas/liquid designs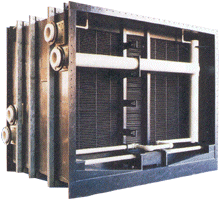 There are applications where a non-metallic heat exchanger is required and for these SEC has the answer. The all-plastic construction is specifically designed for heating or cooling of highly corrosive media. Standard materials of manufacture are PVDF (polyvinylidene fluoride), polypropylene, and polyethylene.
Gas/Liquid Heat Exchangers for Corrosive Gases
SEC Gas/Liquid Heat Exchangers are designed specifically for condensing and/or reheating highly corrosive gas streams. Manufactured from tough, impact-resistant PVDF, polyethylene, or PP, these exchangers are capable of handling gas stream temperatures up to 280°F. A patented process completely eliminates elastomers, seals, and mechanical joints which might produce weak areas subject to chemical attack, stress cracking, and leakage. Typical uses are condensation recovery of acidic components from gas streams generated in garbage and biological waste incineration, reheating of stack gases for plume reduction, and waste heat recovery.
Tube Plate Heat Exchangers
These heat exchangers find applications where heat transfer between corrosive fluids is required. They are very suitable for high purity DI water, other high purity fluids, and condensation of aggressive vapors. The SEC Tube Plate Heat Exchanger is an entirely new concept in heat exchanger design. It is designed to handle most corrosive heating and cooling application when an external type heat exchanger is required. The heat transfer surface consists of a number of tube plates which are heat fused one on top of the other. The stacked tube plates form a continuous parallel series of tubes across which the shell fluid flows. The tube fluid flows within the individual tubes.
Immersion Style Heat Exchangers
The smooth surface of plastic reduces the possibility of contamination and incrustation, even in extreme applications. This enables the use of SEC Immersion Style Non-Metallic Heat Exchangers where metal exchangers would fail or require excessive maintenance. Produced by a patented process of continuous tube extrusion and manifold injection over-molding, SEC heat exchangers have tight connections between the exchanger tubes and the manifolds. There are no mechanical joints. The heat exchangers are constructed of modular elements which enable the heat exchanger to be adapted to suit a particular vessel geometry. In addition, large heat transfer surfaces are contained in a relatively small volume.
Non Metalic Models PDFView Download
You can download more manuals on this or on any of the SEC products for more information.