Shell and Tube
-u-tube, straight tube
-double wall
-single or multi-pass
-stainless, titanium,
exotic metals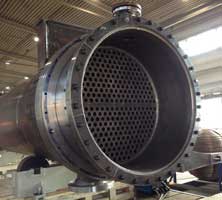 Fabricated from stainless steel or titanium, using the latest production techniques the extensive line of quality SEC shell and tube heat exchangers encompasses all modern designs and configurations. These heat transfer devices are engineered to meet to a wide variety of applications. Every unit is designed, manufactured, and tested as per the quality requirements of the ASME code, Section VIII Division #1 and ISO 9002.
If your applications require straight or u-tube designs we provide fast, professional service. Please complete the "quote request" form. We will send price, thermal data and delivery schedule to you within 24 hours.
Shell and Tube Models PDFView Download
You can download more manuals on this or on any of the SEC products for more information.