Modular High Performance
-dense heat transfer area
-compact construction
-high flow low pressure drop
-single or multipass heads
-multiple configurations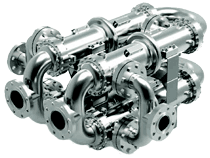 Modular High Performance LENS Heat Exchangers.
The modular lens heat transfer system allows you to easily create a customized heating system. The potential is endless. Optimizing a single design or constructing a multi-sectional integrated structure can effortlessly be accomplished. The adaptive and modular nature of the LENS system allows you to easily modify your design for maximum effectiveness in varying applications.
All SEC LENS heat exchanger components are constructed from grade 316 L stainless steel for strength and durability. High grade VITON gaskets are used for superior sealing and for handling a broad spectrum of fluids in chemical processes. Expansion joints are built in to handle a wide range of temperature differentials, while unique segmental baffles serve even and complete flow distributions. LENS heat exchangers are designed to operate in both horizontal and vertical modes so no compromises need to be made in the design process to accommodate the environment. Large connection sizes on smaller diameter models are useful in low pressure vapour applications. Same side or alternating connection arrangements are possible to support existing piping infrastructure.
Modular High Performance Heat Hxchanger PDFView Download
You can download more manuals on this or on any of the SEC products for more information.
Modular High Performance LENS Heat Exchangers are used in many fields:
Steam Condensers (flooded heat exchangers) - Oil / Gas Coolers - Chilled Water Systems - Process Cooling
District Energy - Hydronic Heating.