Brazed Plate Series
-exceptional value
-highly efficient
-full range of models
-OEM inquiries welcome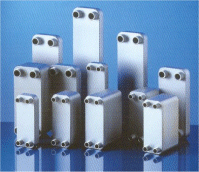 The highly efficient design and excellent value of SEC Brazed Plate Heat Exchangers makes them a wise choice for your heat transfer applications, and swimming pool or spa heating or cooling. Produced to the highest standards utilizing the latest production technology our products meet the demanding quality requirements of ASME, CRN, and ISO 9002. Our Brazed Plate Heat Exchangers are pressure rated for 435psi @ 437°F copper brazed, 752°F nickel brazed. Brazed Plate heat exchangers have a 1 year warrantee. They are available in threaded or solder connections.
SEC Brazed Plate Heat Exchangers consist of specially formed stainless steel plates, vacuum brazed together to form a highly efficient heat transfer device. The corrugated pattern stamped into each plate produces turbulent flows. This results in high heat transfer coefficients. The plate size, number of plates, and connection sizes are varied to match the customer's heat transfer requirements precisely. Individual units have capacities up to 8,000,000 btu of 60 tons for refrigeration applications as condensers and evaporators.
Brazed Plate Brochure PDFView Download
You can download more manuals on this or on any of the SEC products for more information.
Brazed Plate Heat Exchangers are used in many fields:
SNOW MELT - AQUACULTURE - RADIANT HEATING - DOMESTIC HOT WATER PRODUCTION - OIL COOLERS - INDUSTRIAL PROCESSES - MARINE - HVAC POOL AND SPA HEATING - FUEL OIL PREHEATING - BOILER BLOW DOWN HEAT RECOVERY - REFRIGERATION (evaporators, subcoolers, condensers) - METAL FINISHING - AUTOMOTIVE PARTS PROCESSING - BEVERAGE PRODUCTION - COGENERATION.