Shell & Coil Tube
-high efficiency
-shell and coil tube design
-316L stainless, ASME design
-over 40 models in stock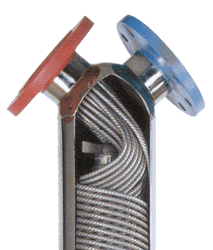 Compact and high efficiency heat exchangers have proven their worth in recent years and the SEC shell and coiled tube series is a leader in the field. Our quality, design features, economy and availability make them a wise choice.
Technology and Design
The coiled tube bundle consists of circular layers of helically corrugated tubes placed inside each other. The fluid in each layer flows in the opposite direction to the layer surrounding it, resulting in an overall criss-cross pattern. The large number of tubes packed closely together give an extensive heat transfer surface within a light compact shell. The alternate layers provide rapid uniform heating of fluids increasing the overall heat transfer coefficient. Corrugated tubes produce a turbulent flow where the desired characteristic of fluctuating velocities is achieved. This random movement of fluid particles reduces deposit buildup by performing a "scoop and lift" action. The connection locations and angle of entry is specially selected to reduce the probability of debris buildup.
Construction Features
The SEC coiled tube series of heat exchangers are fabricated as a single unit with no removable components. Coiled tube bundles are welded to a compact tube sheet located within the entry and exit connections. The cylindrical shell is terminated by hemi-spherical heads. In stock design variations include smooth or corrugated tubes, angled or 90° connections in flanged or NPT termination.
Availability
Within 24 hours of receiving your heat transfer data we will forward pricing, technical data and delivery status to you. The model best suited to your application has been matched, by our computer selection program, to 1 of more than 40 in stock models. Delivery to any major center in North America is routinely 2 to 3 days, however next day delivery can be arranged at minimal cost.
Shell & Coil Tube Technical Details PDFView Download
You can download more manuals on this or on any of the SEC products for more information.