NEWS! SEC supplies 12 large plate and frame heat exchangers to a new dairy processing facility in Eastern Canada. Several models are 9 feet tall with more than 450 plates per exchanger. SEC supplies sanitary designs with stainless steel frames and specialized connections. Please see our www.secplateandframe.com web site.
Follow @SECHEATNews Archives

Welcome to SEC Heat Exchangers
Heat exchangers are used in industrial, commercial, beverage, marine, institutional, food, mining, cryogenic, refrigeration, district heating, HVAC and energy production processes. A Heat exchanger transfers energy from one fluid to another fluid. The use of an SEC heat exchanger ensures that this transfer will take place in the most efficient and technically advanced way possible. Overall efficiency of the installation will be increased and the cost of the heat exchanger system is quickly recovered in energy cost savings.
SEC is able to manufacture and supply many different types of heat exchangers for various applications from very small brazed plate heat exchangers to very large plate and frame or shell and tube models. The large monel lined titanium tube heat exchangers shown in the photo above were supplied to our client in 18 weeks. A production time that no other manufacturer could achieve. We will work with you to calculate the exact type and size of heat exchanger that will work most efficiently in your facility at the best price.
We manufacture all design styles of heat exchangers including shell and tube, brazed plate, plate and frame, non-metallic, shell and disc, and boiler economizers. The materials SEC uses for the manufacture of heat exchangers are stainless-steel, titanium, copper, and most alloys. Our designs encompass single and double wall technology. We manufacture; straight, 'U' and coiled tube designs. Please have a look around our site and feel free to ask us any questions by phone, email or one of our forms where you can include and request technical information.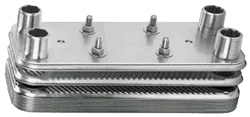 High Pressure Brazed Plate Heat Exchangers for R22, R134A, R401A and R407C are perfect for your high pressure gas process requirments, both Industrial and Commercial.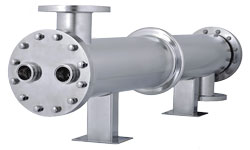 SEC sanitary heat exchangers are engineered to eliminate cross contamination of fluids for critical medical, research, and food and beverage production applications. Industry leading gaskets, baffles and unique construction ensures compete fluid isolation for full sanitary conditions.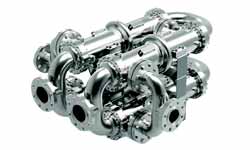 SEC modular high performance heat exchangers provide custom designs using modular components. This allows us to maximize heat transfer potential in small spaces without having to drastically alter piping arrangements or sacrificing efficiency.

The introduction of the SEC Heat Exchangers Free Flow Plate Exchanger changes everything. The Free Flow Plate Exchanger is specifically designed for a wide range of applications, particularly the Fruit Juice, Sugar, and General Industrial market place. The SEC Free Flow Plate Exchanger can handle almost all types of particulates with ease. SEC Free Flow Plate Exchanger Model Chart PDF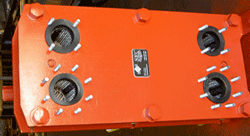 PlateMax a Division of SEC Heat Exchanger, has it's own (big orange) Plate & Frame Heat Exchanger. Available with Titanium, 304-L or 316-L Stainless Steel plates. Frame options include carbon steel, stainless steel or titanium. Also available in "sanitary" for pharmaceutical processes, laboratory clean conditions, milk and many food processing applications.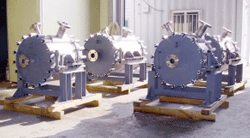 High quality SEC Heat Exchangers Compact Spiral Heat Exchangers are designed for cost effective heat transfer performance with the lowest possible life cycle costs. Spiral heat exchangers can be designed for any commercial or industrial application you have.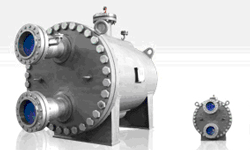 SEC Disc and Shell heat exchangers are an extremely efficient design primarily due to the high turbulence created by the strategically designed geometry of the plates. Disc and Shell heat exchangers are custom designed to provide the best solution to your hi turbulence application.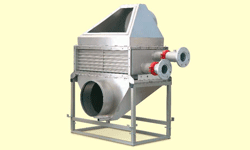 Energy costs are the highest in recent history. Implementation of efficiencies in thermal processes is a vital element in streamlining rising energy costs. SEC Heat Exchangers Boiler Exconomizers are one of the best solutions to high energy costs.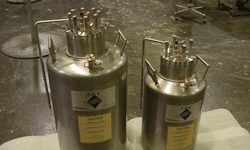 SEC Heat Exchangers provides Custom fabricated Cryogenic Heat Exchangers for critical Medical, Research, Space and Industrial applications. Call 1.800.335.6650 to talk about your application and get assistance with the design and fabrication process.